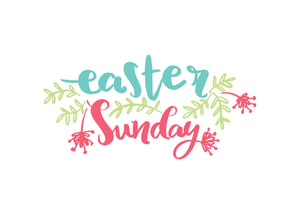 This past Thursday Michael and I had a podcast interview ahead of us with some friends in Austin to talk about our upcoming book release of Fulfilled: The Passion and Provision Strategy for Building a Business with Profit, Purpose and Legacy.
It was Maundy Thursday, the day before Good Friday, and as I was praying and getting ready for the day ahead, I found myself reflecting on a verse, or at least part of a verse. What kept going through my head was the phrase "He set his face towards Jerusalem." He set His face…I couldn't remember where it was in the Gospels until I looked later. I discovered it is Luke 9:51 and I was remembering the King James Version of the verse. Other versions translate it as "He resolutely set out for Jerusalem" or 'He was determined to go to Jerusalem."
To set one's face. To be resolute. To be determined to stay the course. To head towards His destiny knowing that the road ahead held a ton of suffering and shame. I was reminded of Hebrews 12:2 where it says "for the joy set before him, he endured the cross, despising its' shame…" It is a verse I love and I had not connected the two before.
One translation of Hebrews 12:2 says it like this: "Because his heart was focused on the joy of knowing you would be his, he endured the agony of the cross and conquered its humiliation." (TPT) I love that translation.
In the book as we are trying to define "passion" we talk about it as something worth sacrificing for. Something so worth the destination that you'll stay the course even when there are obstacles thrown in your way, or the road gets hard. As we try to explain the concept, even in a book not specifically written for Christians, we can't help but mention that it's no accident they call what Jesus went through "The Passion of the Christ."
During the podcast the interviewer wanted to talk about Passion & Provision (of course) and I found myself referencing those moments of revelation that morning. He set his face towards Jerusalem. That is passion demonstrated.
As we have spent this week in continued isolation from each other, trying to celebrate what is worth celebrating and stay on track despite all the challenges surrounding COVID-19, it was a gift to gain some deeper revelation about what passion is, and what that means for Michael and I.
The more we get to talk about Passion and Provision, the more I see connections and ideas I never saw before. As we live with a concept or a word over a long period of time, there are continued "aha" moments and deeper understanding.
Fulfilled launches on Cinco de Mayo…the 5th of May. Just 23 days from now. Hard to wrap my brain around. We actually got the first early release printed versions on Thursday so I got to hold the book in my hands.
Surreal.
The culmination of a project I wasn't sure we would ever finish. A project with a lot of obstacles along the way. A lot of detours.
Its completion signals the beginning of another chapter of our life and business.
As we live into our passion, our calling, to help business owners think differently about their business, we know there will be many more obstacles along the way. We believe we are on the right path, and I am so grateful to be walking it with my precious husband.
I don't have any illusions that our calling compares to Jesus' in either significance or scope, but I am deeply grateful to have a Savior who shows me what it is like to "set my face" towards the calling on our lives.
What is it your passion?
What are giving your life for?
Happy Easter friends. He is Risen!